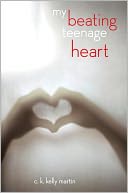 My Beating Teenage Heart by C. K. Kelly Martin
Ashlyn Baptiste is falling. One moment she was nothing—no memories, no self—and then suddenly, she's plummeting through a sea of stars. Is she in a coma? She doesn't remember dying, and she has no memories of the life she left behind. All she knows is that she's trapped in a consciousness without a body and she's spending every moment watching a stranger.
Breckon Cody's on the edge. He's being ripped apart by grief so intense it literally hurts to breathe. On the surface, Breckon is trying to hold it together for his family and his girlfriend, but underneath he's barely hanging on.
Even though she didn't know him in life, Ashlyn sees Breckon's pain, and she's determined to find a way help him. As her own distressing memories emerge from the darkness, she struggles to communicate with the boy who can't see her, but whose life is suddenly intertwined with hers.
I love this premise. It reminds me almost of
The Everafter
, but with people rather than objects being the clues. I also really enjoy stories about the "inbetween," so to speak.