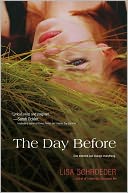 THE DAY BEFORE by Lisa Schroeder
Amber's life is spinning out of control. All she wants is to turn up the volume on her iPod until all of the demands of family and friends fade away. So she sneaks off to the beach to spend a day by herself.
Then Amber meets Cade. Their attraction is instant, and Amber can tell he's also looking for an escape. Together they decide to share a perfect day: no pasts, no fears, no regrets.
The more time that Amber spends with Cade, the more she's drawn to him. And the more she's troubled by his darkness. Because Cade's not just living in the now—he's living each moment like it's his last.
My rating: 4 stars.
MY THOUGHTS:

Lyrical? Check.
Emotional? Check.
Calming, beautiful and deep? Check, check and check.

*If you didn't already know, all of Schroeder's novels are written in verse. Don't be quick to knock 'em off as "stupid poetry." They're amazing, thought-provoking and raw. Refreshing, even. Read and you'll discover their loveliness.

As for The Day Before, it's a wonderful combination of family stress versus unknowing-the-future stress. In such few words you get this complete sense of Amber and her family; it's very touching. As the title suggests, the book takes place over the course of one day - "the day before," in particular. You're not kept in the dark as to what it's referencing; there's no guessing, no waiting, no cliffhangers. The story is straightforward - you simply tag along.

Cade is that quiet/shy/boyishly cute kind of guy. His interactions with Amber don't come off forced. Rather, they're genuine. My only gripe is the quick progression of the romance. I'm not okay with situations that make it seem as if the characters are falling in love after knowing one another for a few hours. This isn't to say that the romance doesn't work within the context of the story, because it does. It works. I'm all for Cade and Amber. It's just that, ultimately, it's not too believable.

The ending comes rather quickly, too. I was just getting into that lulling rhythm that Schroeder provides with her verse, when I realized the story was coming to an end. I like the premise of the story, and the characters, so much that I wish I'd gotten to spend more time with them.

Short and sweet: It's beautiful. Go read it. Then read all of her other books. They're great.