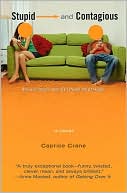 Stupid and Contagious
Caprice Crane
FROM THE COVER:
HEAVEN'S IN HELL…
There's very little I know for sure. I know that men who wear khakis are immediately suspect, that waitressing is what karma makes you do when you've been unforgivably bad. That pretty much covers it.
AND BRADY JUST MOVED IN.

All you need is one good idea and you're set for life, never mind the shameless envy of your friends. That's what separates the big guys from the small fries. One. Good. Idea. And even though I haven't signed a single band for my record label, I've got a million good ideas.

SO WHAT HAPPENS WHEN AN OUTCAST
It's bad enough to get fired from your dream job. But when you can't make it as a waitress, there's a whole world of self-worth you're just never gonna see again.


AND AN ODDBALL

Cinnamon-flavored milk. Cinnamilk. I'm telling you.
Next…Big…Thing…
GET TOGETHER TO TAKE ON THE WORLD?
My rating: 4 stars.
MY THOUGHTS:
To be frank, Heaven and Brady are brilliant. Their duality is electric and infused with humor. Really, they're like bread and butter. Or peanut butter and jelly. Separate, they're equally fantastic, but together they're amazing.

Crane's writing is so detailed about the little things, the everyday events that we tend to overlook; she captures these minute details and moments in the most humorous and quirky ways possible, that the normally dull subjects turn alive and become not so boring. Along with the details is fast, sharp dialogue – and when lines are being delivered by either Heaven or Brady, it makes it all the better. Both characters are so thought-out, so rich in personality, that they may as well be real. They're the perfect duo for the situations that occur.
The match is utterly predictable, but thoroughly enjoyable.