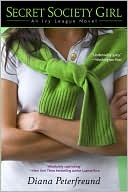 (Hardback & paperback versions, respectively.)
Secret Society Girl: An Ivy League Novel
Diana Peterfreund
FROM THE COVER:
Elite Eli University junior Amy Haskel never expected to be tapped into Rose & Grave, the country's most powerful—and notorious—secret society. She isn't rich, politically connected, or…well, male.

So when Amy receives the distinctive black-lined invitation with the Rose & Grave seal, she's blown away. Could they really mean her?

Whisked off into an initiation rite that's a blend of Harry Potter and Alfred Hitchcock, Amy awakens the next day to a new reality and a whole new set of "friends"—from the gorgeous son of a conservative governor to an Afrocentric lesbian activist whose society name is Thorndike. And that's when Amy starts to discover the truth about getting what you wish for. Because Rose & Grave is quickly taking her away from her familiar world of classes and keggers, fueling a feud, and undermining a very promising friendship with benefits. And that's before Amy finds out that her first duty as a member of Rose & Grave is to take on a conspiracy of money and power that could, quite possibly, ruin her whole life.

My rating: 5 stars.
MY THOUGHTS:
Snarky intellect. Charming, diverse characters. And an entertaining plot that progresses smoothly.
Secret Society Girl
might appear to be a typical school soap opera, but in actuality it's a cleverly disguised journey of finding oneself … with the help of a society most people only dream of joining, and an unsolved mystery. I've never before read such a successfully integrated mystery in a school setting; it kept the story unique and never permitted a dull moment.
The characters are just as original and lively as the plot. Amy's sharp and loves her pop culture references, but she goes above and beyond the average Mary Sue, making her likeable and relatable. The society crew that she meets along the way has plenty diversity to spare – it's incredibly difficult to grow bored of any of them, and just when you think that you might, they surprise you; all of them have such distinctive voices that bring them alive.
Peterfreund's novel adds depth to a normally shallow subject, and does so with both class and spunk.
EXTRA: The sequels,
Under the Rose
,
Rites of Spring (Break)
, and
Tap & Gown
are also worth checking out.