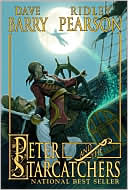 Peter and the Starcatchers
Dave Barry & Ridley Pearson
FROM THE COVER:
In an evocative and fast-paced adventure on the high seas and on a faraway island, an orphan boy named Peter and his mysterious new friend, Molly, overcome bands of pirates and thieves in their quest to keep a fantastical secret safe and save the world from evil[…]

Aboard the Never Land is a trunk that holds a magical substance that amazes – just a sprinkle, and wounds heal; just a dusting, and people can fly.

Roiling seas and dangerous thunderstorms are the backdrop for battles at sea. Bone-crushing waves eventually land our characters on Prawn Island – where the action really heats up.

My rating: 5 stars.
MY THOUGHTS:
I've always been a fan of J.M. Barrie's classic,
Peter Pan
. So although skeptical about the idea of anyone tackling the challenge of creating a prequel, I cracked open
Peter and the Starcatchers
and was pleasantly surprised and entertained.
The novel is marketed for younger audiences, specifically children in middle school, but that does nothing to detract from the story; even if you're accustomed to reading teen and/or adult novels, don't let this deter you from picking it off the shelf! The writing is simple but fitting. The plot never lags – readers switch between the adventures of Peter, Molly, Black Stache and the other orphan boys. Each character strikes a familiar chord, and every major event will leave you with a satisfying Aha! moment as the pieces come together – from before Peter arrives to the island of Neverland to the start of Barrie's classic.
Barry and Pearson craftily concoct the story of Peter Pan's coming-to-be in magically adventurous ways that do Barrie's original novel justice.
EXTRA: The sequels,
Peter and the Secret of Rundoon
, and
Peter and the Sword of Mercy
are just as wonderful.