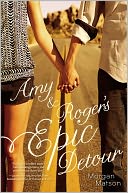 AMY & ROGER'S EPIC DETOUR by Morgan Matson
Amy Curry is having a terrible year. Her mother has decided to move across the country and needs Amy to get their car from California to Connecticut. There's just one small problem: Since her dad died this past spring, Amy hasn't been able to get behind the wheel. Enter Roger, the nineteen-year-old son of an old family friend, who turns out to be unexpectedly cute . . . and dealing with some baggage of his own.
Meeting new people and coming to terms with her father's death were not what Amy had planned on this trip. And traveling the Loneliest Road in America, seeing the Colorado mountains, crossing the Kansas plains, and visiting diners, dingy motels, and Graceland were definitely not on the itinerary. But as they drive, Amy finds that the people you least expected are the ones you may need the most — and that sometimes you have to get lost in order to find your way home.
My rating: 4 stars.
MY THOUGHTS:

Very, very, VERY slow. Almost agonizingly so.

Luckily the events make up for the pacing. This is one of the first road trip books I've read that actually, well, portrays a road trip. Sounds crazy, I know. But there are so many books out there about trips that don't do so much with the detailing of said trips. But Amy & Roger's definitely does. From eating out of the back of their car, to making up names, to driving on deserted roads, to coming upon a grand estate - you get it all. Even the trips to the mini-marts and gas stations. And I love that, because you actually feel as though you're on the trip with them. The sense of winging it and taking chances is refreshing and invigorating.

The interactions between Roger and Amy are very real, and not at all how you'd expect a road trip novel to go. The story is still predictable, but it's not unbelievable. It's not The Greatest Trip of All Time right from the start. That being said, the predictability doesn't really match up. The romance is ... sudden and, again, although predictable, seems insufficient. And not treated very well. It feels like it's thrown in purely because it's a road trip novel, and what's a road trip novel without newfound, budding romance between two unsuspecting strangers?

Nevertheless, Amy & Roger's is definitely a cute, uplifting read. The inclusion of mixes, receipts, pictures, etc. is very cool.