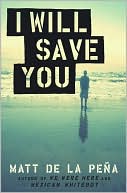 I Will Save You
Matt de la Pena
FROM THE COVER:
Kidd is running from his past and his future. No mom, no dad, and there's nothing for him at the group home but therapy. He doesn't belong at the beach where he works either, unless he finds a reason to stay.

Olivia is blond hair, blue eyes, rich dad. The prettiest girl in Cardiff. She's hiding something from Kidd—but could they ever be together anyway?
Devon is mean, mysterious, and driven by a death wish. A best friend and worst enemy. He followed Kidd all the way to the beach and he's not leaving until he teaches him a few lessons about life. And Olivia.
My rating: 4 stars.

MY THOUGHTS:
Painfully real, raw, emotional. Fight Club-esque, in a less mature way.
Kidd and Devon are both great, complex characters. They first come off as one-dimensional, but develop later on in the story. Another character, Mr. Red, is great. If anything, I'd say he develops most. At first you're not sure what his deal is, or why he's such a prevalent character, but by the end it all makes sense. He's one of the better adult characters in a YA book that I've come across. Unfortunately these positives do not apply to Olivia, who is a predictable one-note type; she has a purpose, it's just nothing spectacular that stands out.
The plot is twisted and jumbled and purposely disjointed. It's told through a series of diary entries, flashbacks, and present scenarios. At first it's off putting, then it becomes rhythmic and the story starts to flow.
The descriptions are a cross between simple and beautiful, and the dialogue is real enough (although not much is used). My only problem is the setting. It's not explained well, and the usage of "tents" and "campsite" really threw me off. I had a hard time picturing anything pertaining to the setting, aside from the beach and boardwalk.
If the story had been a little more developed in the setting and Kidd's past, I definitely would've bumped it to five stars.
EXTRA: I recommend checking out Fight Club by Chuck Palahniuk as well, although it's a more mature read.