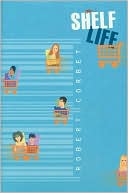 Shelf Life
Robert Corbet
FROM THE COVER:
Check this out for quality, value, and freshness.
A cart full of stories about life in the fast aisle.
Louisa never stops working.
Adam has only just started.
Jared & Dylan are out of control.
Chloe dreams of being a dancer.
Rachel is marrying a stranger.
Abdi has a temporary visa.
Tessa is planning her funeral.
Stephen has disappeared.
My rating: 3 hearts.

MY THOUGHTS:
This isn't a total disappointment, but it didn't leave any impression on me whatsoever. It's a quick read; the story continually moves through the characters and you're never stuck on one for long. Yet, that's the problem. There's no character to attach or relate to. Some are simply never brought up again after they're introduced.


The entire story felt impersonal, yet depressing. Some characters come from broken homes, have broken love lives, or are just feeling broken. There are comedic moments, especially concerning Jared and Dylan, but it's not enough to brighten the rest of the story, which feels as though it's lacking a plot. It just reads as brief glimpses into the lives of grocers.
Shelf Life
is written well, though. The descriptions are nice and purposeful, and the dialogue reflects the personalities of the characters. However, it's not enough to save the novel as a whole.