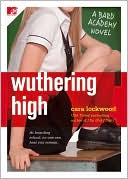 Wuthering High: A Bard Academy Novel
Cara Lockwood
FROM THE COVER:
Welcome to Bard Academy, where a group of supposedly troubled teens are about to get scared straight.

When Miranda, a slightly spoiled but spirited fifteen-year-old from Chicago, smashes up her father's car and goes to town with her stepmother's credit cards, she's shipped off to Bard Academy, a boarding school where she's supposed to learn to behave. Gothic and boring and strict, it's everything you'd expect of a reform school. But all is not what it seems at Bard…

For starters, Miranda's having horrific nightmares and the nearby woods are eerily impossible to navigate. The students' lives also start to mirror the classics they're reading – tragic novels like Dracula, Wuthering Heights, and Jane Eyre. So Miranda begins to suspect that Bard is haunted – by famous writers who took their own lives – and she senses that not all of them are happy. Complicating things even more is the fact that Ryan Kent – a cute, smart, funny basketball player who went to Miranda's old high school – landed himself in Bard, too. And the attention he's showing Miranda is making some of the other girls white as ghosts. Something ghoulish is definitely brewing at Bard, and Miranda seems to be at the center of ominous events, but whether it's typical high school b.s. or otherworldly danger remains to be seen.

My rating: 4 stars.
MY THOUGHTS:
I love that this book (and the rest of the series) includes references to classic literature; it gives Lockwood's story an edge that the plot needs. The interaction between the character classics and the implementation of them works well with the modern aspects. They meld into the story, rather than appear awkwardly separate.
Miranda's a spunky, relatable character. Her voice is real, both in dialogue and narration. Some of the other characters are bit one-dimensional, weak and stereotypical, but Lockwood tweaks them here and there to keep them just interesting enough. And surprisingly enough, the relationships formed are neither shallow nor happen quickly; they have reason behind them, and thought.
Wuthering High
is good in that it's different from other teen mysteries. It has the right level of depth and suspense, without weighing down the story's teen appeal.
EXTRA: The sequels are
The Scarlet Letterman
and
Moby Clique
. Both are just as good as the first.
-----------------------------------------------------
On a quick side note, I'd like to thank Jessi, from
The Elliott Review
, for passing along the One Lovely Blog Award to me! You can check out my original post about the award
here
.