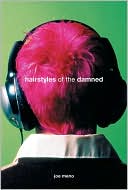 Hairstyles of the Damned
Joe Meno
SYNOPSIS:
[...] 17-year-old Chicagoan Brian Oswald tries to land his first girlfriend and make it through high school. Brian loves video games, metal music and his best friend, Gretchen, an overweight, foul-mouthed, pink-haired badass famous for beating up other girls. Gretchen, meanwhile, loves the Ramones and the Clash and 26-year-old "white power thug" Tony Degan. Gretchen keeps Brian at bay even as their friendship starts to bloom into a romance, forcing him to find comfort with the fetching but slatternly Dorie. Typical adolescent drama reigns: Brian's parents are having marital problems, he needs money to buy wheels ("I needed a van because, like Mike always said, guys with vans always got the most trim, after the guys who could grow mustaches"), he experiments with sex and vandalism.
My rating: 4 stars.
MY THOUGHTS:
Brutally honest and real. Meno wastes no time in skirting around life issues like sex and violence. Readers are in Brian's mind, which is not always a happy place: it's full of babble and rambling, swearing, and lusting. His voice is real, even though at times you'll wish it was fake.
The book is jampacked with emotion, and Meno's writing style is what enables this. Sentences have no pauses, often stringing down the page with Brian's thoughts. It's rushed and seemingly random. But it characterizes Brian and stays true to him. It gives the book its edge. And in a way, it poses a challenge: at times the swearing is used nearly every other word, and while it becomes a pain to read, it stresses the importance of Brian's messages and helps put readers in his place, to see how he sees.
Painfully and wonderfully raw, Hairstyles of the Damned is unique and offers a new outlook on character voice.