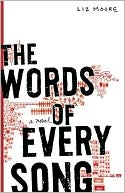 The Words of Every Song
Liz Moore
FROM THE COVER:
[…] in the form of fourteen linked episodes, each centered on a character involved with the music industry in some fashion. There's the arrogantly hip, twenty-six-year-old A&R man; the rising young singer-songwriter; the established, arena-filling rock star on the verge of a midlife crisis; the type-A female executive with the heavy social calendar; and other recognizable figures.

Set in the sleek offices, high-tech recording studios, and grungy downtown clubs of New York […] brings an insider's touch to its depiction of the music industry and its denizens.

My rating: 4 stars.
MY THOUGHTS:
Wonderfully insightful in a gritty, truthful manner. Moore's novel is broken down into chapters that each focus on a different character; while this seems impersonal and more of a collection of short stories, this is not the case. Every story/chapter is linked to another and by the end there is a feeling of whole – that is, that everything fits together.
The voices of the characters are real. Their emotion is raw, which is a nice change from the fluff that sometimes accompanies other novels. But with this straightforward emotion is beautiful, rough, and sometimes lyrical tragedy – not tragedy as it is typically defined, but tragedy as the things we overlook and don't realize have such an impact on our lives.
The writing is crisp and strong. Moore's descriptions are not elaborate, but they're purposeful and evoke more emotion from each part of the story. Little dialogue is used, and when it is, it's very simple; this didn't detract from the book. Rather, what dialogue is used helps convey the harshness of every character.
The Words of Every Song
is hardly a light, fun read, but it's thoughtful in its sadness.