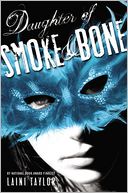 THE DAUGHTER OF SMOKE AND BONE by Laini Taylor
Around the world, black handprints are appearing on doorways, scorched there by winged strangers who have crept through a slit in the sky.
In a dark and dusty shop, a devil's supply of human teeth grown dangerously low.
And in the tangled lanes of Prague, a young art student is about to be caught up in a brutal otherwordly war.
Meet Karou. She fills her sketchbooks with monsters that may or may not be real; she's prone to disappearing on mysterious "errands"; she speaks many languages--not all of them human; and her bright blue hair actually grows out of her head that color. Who is she? That is the question that haunts her, and she's about to find out.
When one of the strangers--beautiful, haunted Akiva--fixes his fire-colored eyes on her in an alley in Marrakesh, the result is blood and starlight, secrets unveiled, and a star-crossed love whose roots drink deep of a violent past. But will Karou live to regret learning the truth about herself
?
My rating: 5 stars.
MY THOUGHTS:

Trust me when I say that this books sits on an entirely different level, separate from other YA novels. Because it truly does. The Daughter of Smoke and Bone is written so beautifully, it easily surpasses those like it. Really, the writing itself is what initially drew me in. The descriptions are fantastical, and the thought behind them is so clear and vivid. I cannot express how impressed I am by the mere writing of this novel - while other YA writings come off almost childish, The Daughter of Smoke and Bone comes off as much more mature - not only in its writing, but also its development.

I think every single character is striking in one way or another. Really. I don't think I was disappointed by any. And that's pretty hard to do for me. But I enjoyed all of them because they all had stories. Backgrounds. Personalities. Taylor made me want to know all of them, and there's a difference between me wanting to know more, and the author simply telling me more.

Truth be told, my only gripe is the ending. I realize it's meant to end the way it does, but I'm just not the biggest fan of its wrap-up. Plus, cliffhangers are pretty annoying.

That aside, Taylor has gotten herself on my list of authors whose books I will always pick up. I'm really looking forward to the second book.

If you don't read this, you're missing out.