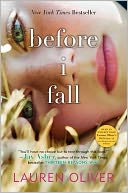 BEFORE I FALL by Lauren Oliver
What if you only had one day to live? What would you do? Who would you kiss? And how far would you go to save your own life?
Samantha Kingston has it all: looks, popularity, the perfect boyfriend. Friday, February 12, should be just another day in her charmed life. Instead, it turns out to be her last.
The catch: Samantha still wakes up the next morning. Living the last day of her life seven times during one miraculous week, she will untangle the mystery surrounding her death—and discover the true value of everything she is in danger of losing.
My rating: 4 stars.
MY THOUGHTS:

I wish this could be a one-word review. It'd say WOW.

This book really gets you thinking, in the best ways possible. How would you live your last day? Don't worry, Sam doesn't know either. She lets us, as readers, discover the answer with her. I think this is the aspect that I like most about Before I Fall. Nothing seems to just be told to us; you work through everything right along with Sam, not knowing if the outcomes will be good or bad or inbetween. And in this way, it's not like a book - it's like life. I really like that the feelings Sam's story evokes transcend just the story.

The book does drag. It has to, like a Groundhog Day scenario. But while I understand the necessity, it also bothers me. Sometimes I just wanted to get to the next part because scenes were too repetitive. The good news is the characters make up for the slow timing. At first, they're nothing special - just typical cliches. But Oliver takes them and puts a spin on the repetition that shows their development and their true selves. It's a lovely unfolding of sorts.

If anything, read for the realness that is Sam's world. You may learn something, and be glad for it.

In a nutshell: Striking, beautiful, thoughtful.