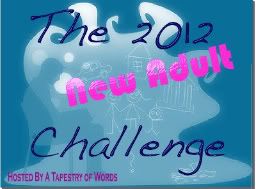 HOSTED BY DANYA @ A TAPESTRY OF WORDS
What are
"New Adult"
books, you ask? They're books with characters primarily past their teenage years; they're graduating, going into college, are in college, looking for jobs - you get the gist. Isn't that
fabulous
? Isn't that what I've been looking for?! It is. I'm very excited for this year-long challenge.
The rules and levels, as per Danya's post:
The book must feature a protagonist who is past the average age for graduation from high school (18 in most places). If they're sitting on the fence at precisely age 18, then you can make the judgment call on whether it is more YA or New Adult. (If the majority of it is set in high school, I'd classify it as YA.) The protag should be younger than 30, just to give a maximum limit as well (otherwise we're getting into Not-So-New Adult literature!)
This does *not* mean the book must be of the contemporary genre. If it's a fantasy or dystopian or something and there *is* no concept of "graduation" in that world, then just go by our world's standards in deciding if it counts.
The levels:
Just Graduated: read a minimum of 3 New Adult books
Moving Out: read a minimum of 6 New Adult books
Living On Your Own: read a minimum of 9 New Adult books
Fully Independent: read every single New Adult book you can get your hands on
------------------------------------------------
The challenge will run from Jan. 1 - Dec. 31, 2012. Interested? Want to sign up?
CLICK!