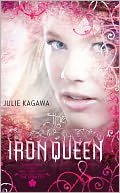 THE IRON QUEEN
Julie Kagawa
I thought it was over. That my time with the fey, the impossible choices I had to make, the sacrifices of those I loved, was behind me. But a storm is approaching, an army of Iron fey that will drag me back, kicking and screaming. Drag me away from the banished prince who's sworn to stand by my side. Drag me into the core of conflict so powerful, I'm not sure anyone can survive it.
This time, there will be no turning back.
My rating: 5 stars.
MY THOUGHTS:
HOLY COW. WOW. WOWZA. STUPENDOUS!
The Iron Queen
does not disappoint in any regards. Sure, there are a few overly repeated phrases used to convey character personalities. But otherwise, the drama gets you right in the gut, the action keeps you hanging on every word, and the romance just might bring you to tears.
(Word of advice: keep tissues handy!)
This third part to the Iron Fey series is simply a knockout; it takes the loose ends from the previous two (
Iron King
and
Iron Daughter
) and weaves them together into a complete picture. Granted, this does not take away from the suspense or mystery Kagawa creates. If anything, it justifies the two. Just when you begin to doubt the plot and characters, something comes along to reel you right back in.
The Iron Queen
is a constant tug of war on your emotions. It comes off frantic, but in the end, it all makes sense.
It's in this installment that the characters steal the show. They don't just grow, they build off of one another, working cohesively. It's an interesting mix for sure, when the plot in the previous two is what took precedence. Getting to the core of Meghan, Puck and Ash shapes the story; while at times they seem one dimensional or cookie cutter in the previous books, they show their true selves in
The Iron Queen
and it's a refreshing surprise. You won't be able to stay unattached to any of them.
Really, I could go on, but I think my opening sentiments sum up my feelings enough.
** You all need to read this book!
And be on the lookout for the upcoming book, The Iron Knight, being released 10/25/11!
I'm not sure I've ever gotten so worked up about a book before. I mean, I have. But not recently. This is easily my favorite read of 2011 so far. How I'm possibly going to wait for
The Iron Knight
, I have no idea. I'm already dying to know what happens and have been bragging about this to friends. I think I may be in love with this book.
(And Ash!)