You waited in line at midnight for the books and movie premieres. Now, 14 years after it all began, you can revisit the magical world of Harry Potter!
Join us (myself & Sarah, at Writer, Reader, Dreamer) as we reread the Harry Potter series (books 1-7) throughout the month of August*!
Each week we'll cover two books and share our favorite quotes, scenes, characters and memories, as well as asking and answering discussion questions. (Don't worry – you can post about the movies, too!)
We'd love to get as many participants as possible, so make sure to spread the word! And if you have any questions about the reread, feel free to contact
Sarah
or me. You'll find the schedule below:
THE GREAT HARRY POTTER REREAD SCHEDULE
*Don't feel obligated to reread all 7 books!
If you only want to reread one or two, you can still sign up!
Sunday, August 7th:
Harry Potter & the Sorcerer's Stone,
Harry Potter & the Chamber of Secrets
Sunday, August 14th:
Harry Potter & the Prisoner of Azkaban,
Harry Potter & the Goblet of Fire
Sunday, August 21st:
Harry Potter & the Order of the Phoenix,
Harry Potter & the Half Blood Prince
Sunday, August 28th:
Harry Potter & the Deathly Hallows
Sunday, September 4th:
Harry Potter & the Deathly Hallows
Now, it's YOUR turn! If you'd like to participate and reread along with us, sign up so we can follow your posts, too!
---------------------------------------------
Grab some fabulous buttons to show your participation!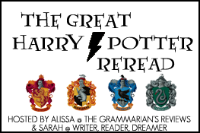 *The reread will continue into the first week of September, as a grace period. We realize 7 Harry Potter books is a lot to read and that seeing the movies can take just as long!