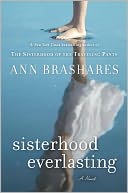 Sisterhood Everlasting by Ann Brashares
Return to the Sisterhood of the Traveling Pants ... 10 years later.
Now Tibby, Lena, Carmen, and Bridget have grown up, starting their lives on their own. And though the jeans they shared are long gone, the sisterhood is everlasting.
Despite having jobs and men that they love, each knows that something is missing: the closeness that once sustained them. Carmen is a successful actress in New York, engaged to be married, but misses her friends. Lena finds solace in her art, teaching in Rhode Island, but still thinks of Kostos and the road she didn't take. Bridget lives with her longtime boyfriend, Eric, in San Francisco, and though a part of her wants to settle down, a bigger part can't seem to shed her old restlessness.
Then Tibby reaches out to bridge the distance, sending the others plane tickets for a reunion that they all breathlessly await. And indeed, it will change their lives forever—but in ways that none of them could ever have expected.
Okay, this is more of a Waiting on My Mailbox kind of deal. The release date for this was the 14th, and somehow I missed any and all publicity for it. I still have no idea how it slipped under my radar. I haven't read the series since I was about twelve, but I was immediately drawn to this. It's kind of like how I was with Megan McCafferty's Jessica Darling series; I finished it, then time went by, then a closing book was released and I was hooked all over again.
So, needless to say, I ordered this the moment I stumbled upon it. Now I just have to wait for it to get to me!