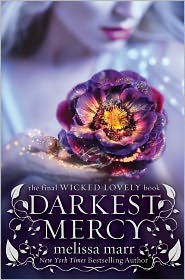 Honestly, who isn't excited for the release of Melissa Marr's
Darkest Mercy
(the last of the
Wicked Lovely
series)?
I wasn't particularly pleased or satisfied with the last installment, but I have high hopes for the story coming together in its ending. I mean, we're
finally
getting back to Aislinn and Keenan! (
Where have they been, anyway? Absent much?
)
But, if you can't wait a few more days for the 22nd (which is the official release day) or afford to snatch a copy for yourself,
check out this excerpt
and enter to win an ARC!
Darkest Mercy
synopsis, from Barnes and Noble:
"

The Summer King is missing; the Dark Court is bleeding; and a stranger walks the streets of Huntsdale, his presence signifying the deaths of powerful fey.

Aislinn tends to the Summer Court, searching for her absent king and yearning for Seth. Torn between his new queen and his old love, Keenan works from afar to strengthen his court against the coming war. Donia longs for fiery passion even as she coolly readies the Winter Court for battle. And Seth, sworn brother of the Dark King and heir to the High Queen, is about to make a mistake that could cost his life.

Love, despair, and betrayal ignite the Faery Courts, and in the final conflict, some will win . . . and some will lose everything.

"