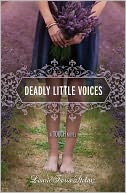 Deadly Little Voices
by Laurie Faria Stolarz.
I'm a huuuuuuuuuuuuuuge fan of the Touch series and anything written by Stolarz, so I was ecstatic when I went to B&N and found this on the shelf.
Side note: Happy New Year! Hope your 2012 book hauls are even better than the ones in 2011!