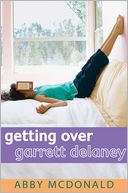 GETTING OVER GARRETT DELANEY by Abby McDonald.
Seventeen-year-old Sadie is in love: epic, heartfelt, and utterly onesided. The object of her obsession - ahem, affection - is her best friend, Garrett Delaney, who has been oblivious to Sadie's feelings ever since he sauntered into her life and wowed her with his passion for Proust (not to mention his deep-blue eyes). For two long, painful years, Sadie has been Garrett's constant companion, sharing his taste in everything from tragic Russian literature to art films to '80s indie rock- all to no avail. But when Garrett leaves for a summer literary retreat, Sadie is sure that the absence will make his heart grow fonder - until he calls to say he's fallen in love. With some other girl! A heartbroken Sadie realizes that she's finally had enough. It's time for total Garrett detox! Aided by a barista job, an eclectic crew of new friends (including the hunky chef, Josh), and a customized selfhelp guide, Sadie embarks on a summer of personal reinvention full of laughter, mortifying meltdowns, and a double shot of love.
My rating: 4 stars.
MY THOUGHTS:

Sloooooooooooooooow. In a good way! Getting Over Garrett Delaney will definitely test your willpower to keep reading, but it's strangely worth it. It's what I've been asking for: a book in which the romance takes a back seat and develops. If you're looking to get away from love triangles and insta-love and get back to what's most relatable to real relationships, then this is the book for you.

The characters are nice in the way that they're not over the top in their actions. Everything seems pretty plausible and that helped to make them seem more real. My one gripe is the descriptions, which leave a little to be desired. Everyone's always grinning or hugging or laughing. You'll understand when you read it. I would have liked a little more variation.

I like that nothing happens in the way of romance - nothing overwhelming, I mean. It's so nice to find a story that progresses, rather than throws the character right into a make out session. Sadie is goofy and overly concerned and not at all preoccupied with the physical aspects of a relationship. Instead, her story focuses on the dynamics of the inner workings of relationships, which, as a reader, I appreciated. Because not everyone is focused on that, 100% of the time.

Everything pans out really well, from the characters to the timing of their involvement, everything. It was like I spent a few weeks of summer with Sadie and her gang myself. And it was fun.