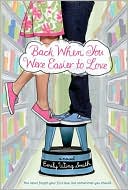 Back When You Were Easier to Love
Emily Wing Smith
SUMMARY (from Amazon):
What's worse than getting dumped? Not even knowing if you've been dumped. Joy got no goodbye, and certainly no explanation when Zan-the love of her life and the only good thing about stifling, backward Haven, Utah-unceremoniously and unexpectedly left for college a year early. Joy needs closure almost as much as she needs Zan, so she heads for California, and Zan, riding shotgun beside Zan's former-best-friend Noah.
---------------------------------------
So excited for this! Seems like a cross between Amy and Roger's Epic Detour and Two-way Street. Gotta love a good roadtrip - and the names Zan and Noah. Awesome.